Winter can be the ideal time to plan a vacation in Italy. In addition to lower airfare, there are less tourists and more opportunities to enjoy the cities without the crowds. Italy also has plenty of holiday festivals and events that will warm your heart and keep you busy!
Visit Venice!
With the tourist season having ended, the city streets are covered with lights, and mercatini di natale (Christmas markets) are found everywhere, with the largest transforming Campo Santo Stefano into a Christmas village! The midnight Mass at Saint Mark's Basilica on Christmas Eve flows out into the street with the sound of traditional hymns echoing through the streets. With the oldest Jewish "ghetto" in Europe, Venice is also known for its Hanukkah lights, particularly in the Cannaregio district. Here a menorah is proudly displayed in the square and the scrumptious Italian Hanukkah treat, fritelle di zucca barruca (pumpkin fritters), are sold.
Milano is a Must!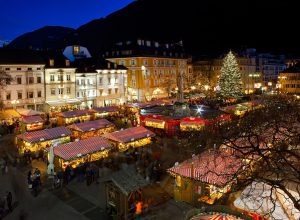 Milan is said to be the best European city for Christmas shopping. The beautiful holiday window displays at both large department stores and small boutiques make holiday shopping a real joy! More important than shopping, however, there is panettone to enjoy. The delicate sweet bread, laced with candied fruits and raisins is made for the Christmas season. Having originated in Milan, panettone is found throughout the city, and if you venture to the square in front of the 15th-century castle, Castello Sfrozesco, you can savor this Christmas treat while checking out locally made crafts. If you plan to stay in Milan to bring in the New Year, you're in luck because the bars offer apertivi hours that make ringing in the New Year a true celebration!
Check out Cinque Terre!
Liguria's Cinque Terre, the five coastal towns famous for their colorful cliff-side buildings, becomes quiet when tourist season ends but reawakens at Christmas time! During this time, the area experiences a surge of holiday of activity that is truly spectacular. Every year on December 8, the Catholic feast of the Immaculate Conception and traditional time of holiday decorating throughout Italy, the hills of the town of Manarola are adorned with an elaborate nativity scene. This spectacular Christmas display has over 15,000 lights and 250 different figures-from angels to camels- made of recycled materials. The best part is that the display lasts well into February.
Next to Naples!
If you were raised in an Italian-American home, you probably remember the traditional "feast of the seven fishes" — a Christmas Eve dinner where the menu consists of seafood. This tradition comes from southern Italy where every year people observe la vigilia (the vigil) the night before Christmas. In the past, Roman Catholics abstained from consuming meat on Christmas Eve, instead indulging in dishes like baccalà (salt cod) or lightly fried calamari, or smelts. If you are in Naples on this night, you can look forward to entering any trattoria for a hearty seafood meal.
To get you in the right mood and to work up your appetite for the traditional Neapolitan Christmas Eve meal, you can start your day with a walk from Spaccanapoli, the characteristic street that crosses the entire historic center, dividing it in two parts. Along your walk you will find several important historical treasures, as well as tons of souvenir shops, handicraft & antique boutiques, wine & food taverns and traditional Christmas shops displaying impressive hand-made nativity sets. Also, among the places not to be missed is certainly the Piazza del Plebiscito, the main square in Naples, used as a location for Christmas concerts and events. And don't forget to spend time visiting the many shops along Via San Gregorio Armeno where you'll find locally made Christmas figurines and the artists themselves at work.
Rejoice in Rome!
Rome is known for its mostra dei 100 presepi, or 100 nativity scenes. There's also the spectacular Christmas market in Piazza Navona, where vendors sell intricately painted tree ornaments and holiday treats like struffoli– marble-sized fried dough balls covered in honey and rainbow-colored candy sprinkles.
The Epiphany, the religious feast that commemorates the Wise Men bringing gifts to the Christ Child, is a very special day for the Romans. On this day, all the children eagerly wait for the Christmas witch, la Befana, to bring them gifts and candy treats. Having chased the Wise Men away from her house, la Befana now relentlessly searches for the Christ Child to bring him a gift on this day. Piazza Navona becomes a real carnival on January 6 in the moonlight, with the traditional children's carousel and more than ten road shows designed to bring joy to young and old alike. On the morning of January 6 Via della Conciliazione, you can enjoy the parade "Viva la Befana", as the three Kings ride their camels, and Roman chariots and other characters in historical costume march toward St. Peter's Square to celebrate this special holiday.