In 1897 the city of Blue Island, Illinois saw its first Italian immigrants from the region of Lucania now known as Basilicata (immigrants from the towns of Ripacandida, Potenza, Melfi, Avigliano.)  In 1905 with only 43 Italian people from Basilicata, the Blue Island Society of San Donato began; San Donato is the patron saint of Ripacandida. In 1907 some of the members traveled to Altoona, Pennsylvania, where several people from Basilicata had immigrated.  While there they participated in the Feast of Our Lady of Mount Carmel and during the mass they saw a statue of San Donato of Ripacandida. Upon arriving back in Blue Island they agreed that they wanted a statue in honor of their patron saint.  A man by the name of Rocco Gagliardo from the Chicago Statue Company in Chicago replicated a statue for the society.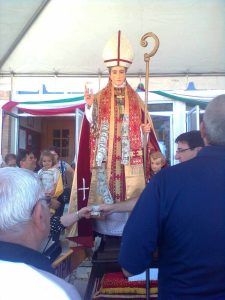 In 1909, two years after the statue was commissioned and completed, the Blue Island community decided they wanted not only a statue of the saint but a church and a parish.  A site was found on the east side of Blue Island where a church was erected from a small house. Permission was granted by the Archdiocese of Chicago and the parish of St. Donatus was established. For the past 100 years, the people of St. Donatus and Blue Island have continued a heartfelt tradition in honor of their patron St. Donatus.  Italian people from Basilicata and many other regions of Italy who now live in the United States come and celebrate this great feast every year.
The feast begins with a weeklong carnival with rides, homemade Italian foods, music and games.  On the last day of the feast a mass followed by a street procession is held. Residents of Blue Island of all faiths place a table in front of their home where a statue of St. Donatus is placed and a blessing from the pastor is given for the home and family.  Fireworks are shot off in front of some of the homes as the procession passes.
The people of St. Donatus extend their invitation to everyone to come and celebrate this wonderful tradition from Ripacandida. St. Donatus delights in watching people experience the warmth and spirit of this sacred feast that they have felt for many years. This year the feast begins August 3rd and continues through August 7th.  Start time is 6:00p.m. to 11:00 p.m. August 3 – August 6. On August 7, festivities begin with Italian Mass at 10:00 a.m. and procession immediately following.
This year ICAP will have a booth at the festival grounds on Sunday, August 7. Individuals who place an order within 15 days of the feast will receive a 10% discount off the standard price. Come and visit us at the feast!
Location:
St. Donatus Church
1939 Union St., Blue Island
The Feast of St. Donatus of Ripacandida