I grew up hearing stories from my Italian grandmother about the colorful people from her village of Montagno from the "old country." We always ate homemade ravioli or lasagna for Christmas, and we always had a jar of romano cheese in the refrigerator growing up. As an adult, I deepened my connection with my Italian ancestors through learning Italian genealogy. Luckily, Italy has a great history of keeping records of birth, marriage, and deaths starting from about 1808. Obtaining Italian civil records is critical to the Italian dual citizenship process.
The invasion of Emperor Napoleon into Italy was the beginning of the Italian civil records. Prior to then, the Roman Catholic Church was the primary keeper of the sacraments, including birth/baptism, marriage, and burials. Napoleon decreed that civil records be kept starting in 1806 in Northern Italy. The Kingdom of Naples, now present day southern Italy, followed suit in 1808. The first year or two of the Italian civil records do not have much information. This began to change starting about 1810 with inclusion of the names of parents on birth, marriage, and death records along with other important genealogical information. The Italian civil records from 1808 to 1816 are called the "Stato Civile Napoleonico" or the Napoleonic Civil Registration. Parts of current Italy that were not under Napoleon's reign during this time period, including Sicily, do not have these Napoleonic civil records. Napoleonic civil registration ended in 1815 following Napoleon's demise.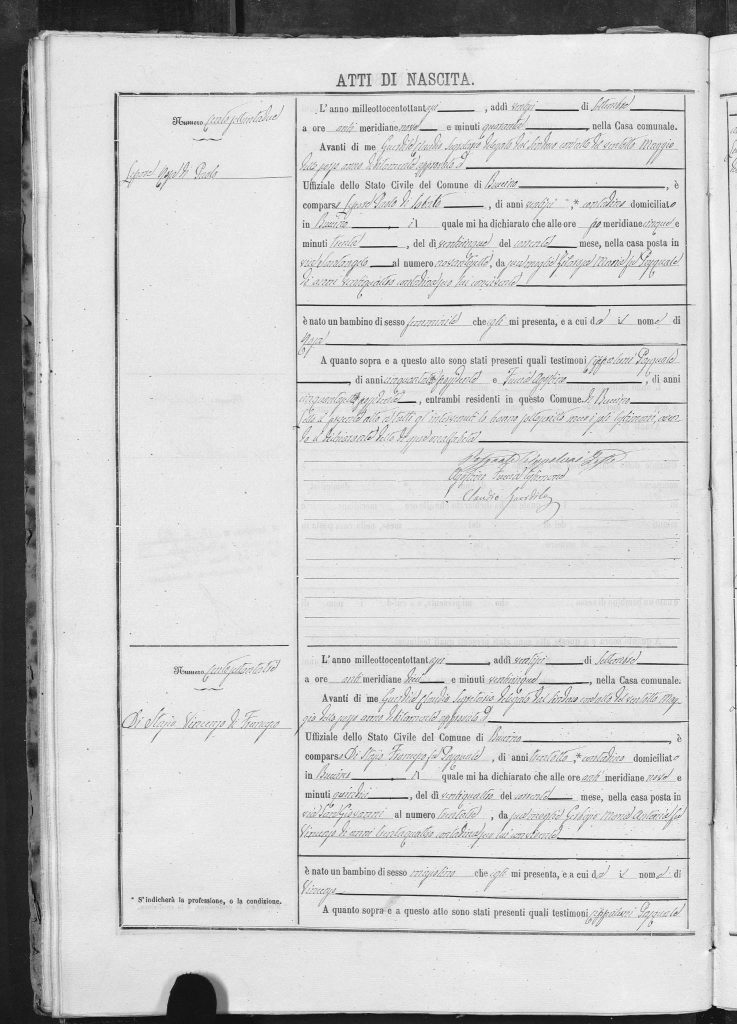 The second period of historic Italian civil records is from about 1815 to 1865 and is called the "Stato Civile della Restaurazione" or the Civil Records of the Restoration. Northern Italy ended civil registration during this time and the church parishes were again responsible for keeping Italian vital records. This includes part or all of the current provinces of Lazio, Marche, Umbria, and Emilio-Romagna. The Kingdom of the Two Sicilies, which includes present day southern Italy and Sicily, maintained their civil registration. During this period, the format of the Civil registration forms was expanded and became more descriptive. Birth records contained baptism information and marriage records included both the civil and parish marriage information. Most notably during this time was the requirement of the matrimoni processetti, or marriage supplements, which is often a gold mine of genealogical information. The marriage supplements included the birth records of the bride and groom, the death records of any deceased parents of the bride and groom, and the death records of their respective grandparents, though paternal grandparents were often the only records included. Some of the marriage supplements pre-date the civil records and can include church records in Latin into the 1700s.
The Unification of Italy brought yet another time period of Italian civil registration called "Stato Civile Italian" or Italian Civil Registration which began on 1 January 1866 for most areas of Italy. While requirements for marriage supplements ended, annotations in the margins of birth records about a person's marriage and possibly their death began, though not all clerks maintained these annotations on a consistent basis. Ten year indexes are also available during this time period which aids in finding ancestors. Addresses are included in this period's civil records down to the house number and street name of your ancestor, but parish information on where a baptiam or marriage took place was no longer included.
The period of Italian civil registration is important to know, especially when using the Italian Civil Archives website Antenati. Italy has the 100 year rule that birth records are only available from within 100 years of an ancestor's birth. For death records, the rule of availability is 75 years.
Where Italian Civil Records Are Kept
Italian civil records can be found in three different locations depending on the age of the document.
Comune [Town] – Original civil registration copies are kept at the town hall and usually kept in an office called the Ufficio di Stato Civile.
Tribunale [Tribunal] – A second copy of each civil registration went to the local tribunale, which is similar to a county clerk's office. These copies were sent on an annual basis from the town to the local tribunale until the year 2000. After 70 years, these copies were sent to the provincial archives or Archivio di Stato, though sometimes, the records were never transferred.
Archivio di Stato [State Archives] – The provincial archives are found in the capital city of each province and named Archivio di Stato di [province name].
Town records for each year are often incomplete. Records were historically lost through natural disasters, like floods, fires, or even earthquakes. Political unrest also resulted in record loss in some areas. However sometimes, a second copy of a record may be found at the Tribunale or Archivio di Stato.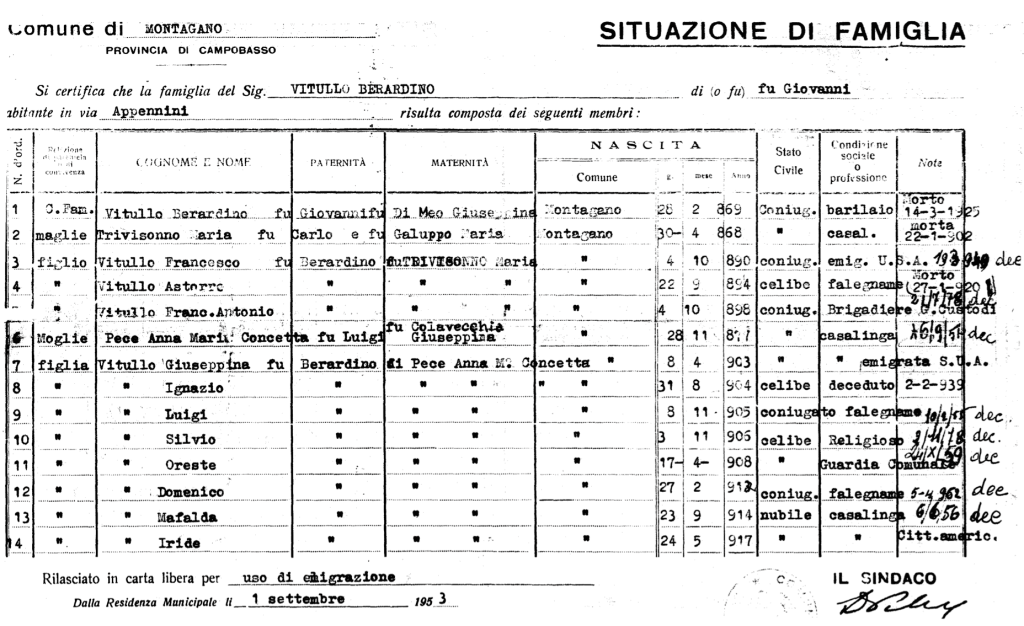 Other Types of Italian Civil Records
While birth, marriage, and death records are the main Italian civil records that are needed for Italian dual citizenship, other Italian records aid in finding these records, including:
Lista di Leva [Draft Lists] – these are military records for men that provide date and town of birth, and parents' names. Also included in these records are physical descriptions, including eye color!
Stato di Familia or Situazione di Famiglia– literally translated "State of the Family" or "Situation of the Family." When available, these provide the list of all the members of a family, their birth information, and sometimes additional information such as marriage and death. It's like a mini Italian genealogy that is created by the town hall.
But I Can't Read Italian
Are your 19th century Italian bureaucratic language skills rusty or even lacking? Or you don't know where to start to find the town where your Italian ancestors were from? The ICAP genealogists can help you locate the Italian birth, marriage and death records you will need for your Italian dual citizenship application. Contact the ICAP office to inquire into our Italian genealogy services.
Italian Civil Records, a Gateway to Italian Dual Citizenship