Where there's a will there's a way…
The COVID-19 pandemic has had a major impact on international travel, especially for Americans looking to visit other countries.  The pandemic has hit European countries, including Italy, to different degrees, so some European countries are currently considered safer than others.  The European Union (EU) maintains a list of countries that it considers safe based on the number of COVID-19 cases and EU countries are encouraged to allow travelers in from the countries that are on the safe list.  The U.S. is not on the safe list and most European countries are continuing to ban American travelers, with few exceptions.
As it stands at the time of writing, Italy is only allowing people from the U.S. who are traveling for what are defined as essential reasons.  These essential reasons include work or business, health, study, returning to one's residence, reuniting with a spouse or significant other, and absolute urgency.  Those in the U.S. who have Italian citizenship are also allowed to travel directly from the U.S. to Italy.
Can I Travel to Italy Through EU Countries Allowing Entry from the U.S.?
As Italy and other European countries continue to restrict travel from the U.S. and certain other countries based on COVID-19 infection rates, direct travel to Italy from the U.S. for tourism is prohibited.  The restriction applies to anyone traveling to Italy directly from the U.S. except for Italian citizens and those traveling for the essential reasons listed above.  Because of this, many people are wondering if they can enter Italy through one of the few EU countries that allow direct entry from the U.S.  These countries include the U.K., Ireland, Croatia, and Slovenia and they each require quarantine restrictions upon arrival.
It is possible for a U.S. traveler to make it into Italy via Britain, but there are some steps you would need to follow along the way to make it through to Italy.  First, you need to book a one-way fight to the London Heathrow airport.  You must also get tested for COVID-19 and have a valid negative test within 72 hours of the departure of your flight to London.
Before you depart for London, you will also have to take care of the following:
Set up private transfers to your hotel in London through a trusted professional travel adviser to spend 14 nights in quarantine.
Make sure your hotel offers room service or meals via Uber Eats and other similar apps.
Book a flight from LHR to a small airport in Italy for customs or book a train if your time allows.
It is advised to purchase trip protection insurance with your travel adviser before leaving the U.S.
Arrange for a private car service in Italy to take you to your destination.
Purchase your return ticket from Italy to the U.S.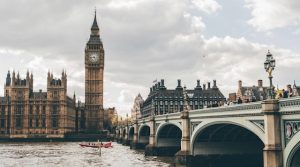 When it is time for you to travel to London, keep the following tips in mind:
Keep a hard copy of your boarding passes and travel itinerary on you as well as your Covid test results.
Plan on staying in London at least 17 days, 14 days and nights will be spent in quarantine.
It's in good form to enjoy London safely for a few days once you complete your quarantine.
Ask your hotel to write a letter stating you quarantined for a complete 14 night required time as proof of stay in accordance with U.K. standards.
Get a Covid test within 48-72 hours of your departure from London to Italy and keep the test results on you with your passport.
When it is time to depart London for Italy, keep these tips in mind:
Make sure your passport and Covid test results are on you when traveling, passport control will need this documentation to allow your arrival.
You need to be tested for Covid again within 48 hours of your departure from Italy to the U.S.
Italian Citizenship Services from ICAP
Until the COVID-19 pandemic has slowed down enough to open international travel to Europe, U.S. citizens will only be able to enter Italy through the few EU countries that allow travelers directly from the U.S.  However, those in the U.S. with Italian citizenship can travel directly to Italy.
At ICAP, we can help people who are eligible in the U.S. obtain their Italian citizenship.  We can help you through every step of obtaining your dual Italian citizenship including finding naturalization records, Italian vital records, and US Records.  We also offer an Apply in Italy program in which you can expedite the process by applying for citizenship in Italy.  For ICAP clients applying for Italian citizenship at our program in Italy, car transportation will be provided, and COVID-19 testing will be arranged.
How to Travel to Italy During the Pandemic