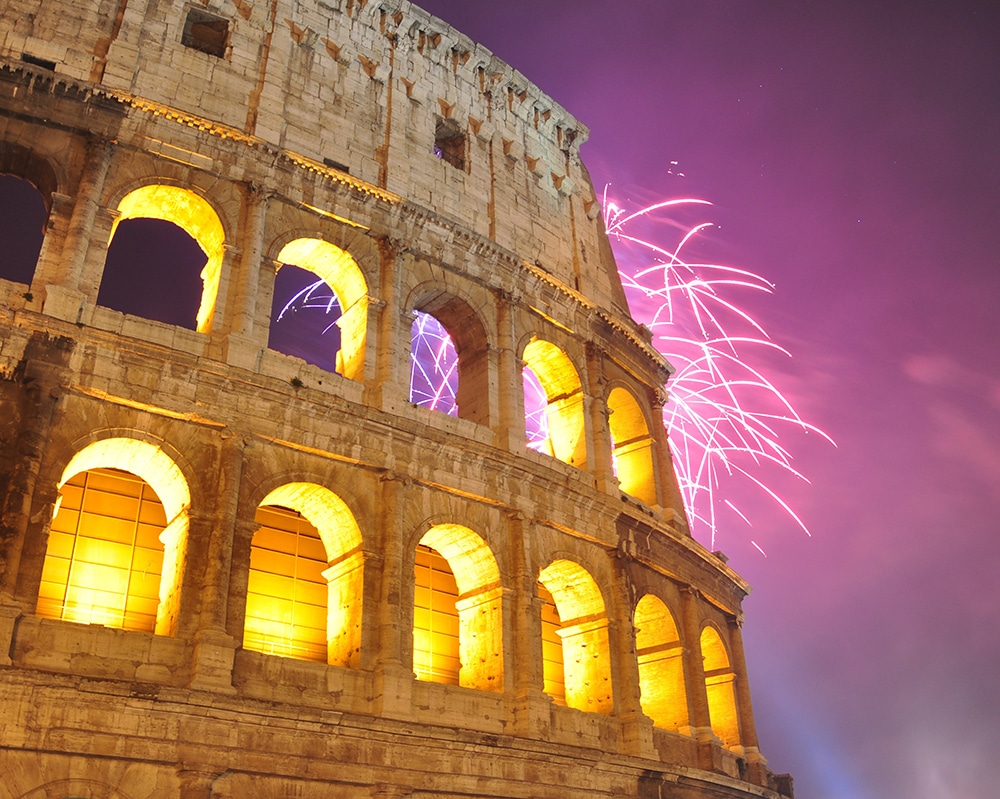 Happy new year!  This year we celebrate more than the upcoming new year, but a new decade as well.  The new year is seen as a fresh beginning, saying goodbye to the old and welcoming the new.  Many new year's traditions involve letting go of bad luck and welcoming good luck and prosperity for the new year.  We also try to better ourselves for the upcoming year by creating new year's resolutions. Maybe your new year resolution will be to obtain your Italian dual citizenship?
Ringing in the new year is a favorite tradition all over the world and each country has their own way of celebrating.  Italy has several unique new year's traditions, but with the same idea in mind of leaving bad luck in the past and bringing good luck and prosperity.  The following are common new year's traditions that are celebrated by Italians as a way to let go of the previous year.
Throwing Out Old Pots and Pans
For Italians, the new year is about letting go of the old, including bad luck and unhappiness, in preparation for the new year.  In fact, they literally "throw out the old" by throwing old pots and pans, clothing, and other items they no longer want or need out their upstairs windows.  This is more of a tradition in southern Italy, though the practice of throwing things out the window is not as common as it once was.  It has become more customary, especially in northern Italy, to smash old pots and dishes outside the home.
However, if you are in southern Italy for the new year, you should still watch out for flying pots and pans!
Red Underwear
Another common New Year's Eve tradition in Italy is wearing red underwear.  Both men and women partake in this tradition as wearing red underwear is believed to bring luck and love in the new year.  Women who hope to conceive in the new year wear red underwear as red is also the color of fertility.  The day after the new year, the red underwear is thrown away to ensure good luck.
Fireworks
Fireworks are a new year's tradition in many countries, including Italy.  Fireworks displays can be seen throughout Italy as New Year's Eve turns into New Year's Day to ward off bad spirits.  The bright colors are meant to bring light to the new year.
New Year's Italian Cuisine
Cuisine is a major part of Italian new year's traditions as Italians prepare a feast that encourages good luck and health for the new year.  The new year's feast consists of specific foods that are believed to bring luck and prosperity, and these meals are shared with friends and family.  The following are Italian dishes that are commonly prepared and served for New Year's Eve feasts:
Lentils (Lenticchie): Lentils are the main staple of New Year's Eve feasts in Italy. Lentils are believed to bring luck and prosperity throughout the new year because they resemble Roman coins.  The most common way lentils are served is as lentil soup, and the lentils are cooked with a combination of garlic, onions, herbs, olive oil, tomatoes, and sometimes pasta.  You can make your own lentil soup with our recipe below!
Pork sausage (Cotechino): A pork sausage known as cotechino is often served on new year's with lentils. Italians consider pork to be lucky because it is fatty and rich, which is why it is consumed with the New Year's Eve feast.  Cotechino is commonly simmered over low heat and served as round slices.
Stuffed pig's trotter (Zampone): Stuffed pig's trotter, known as zampone, is another traditional pork dish served on New Year's Eve. Zampone is sausage stuffed into a hollowed-out pig trotter and it is boiled and served as round slices.
White risotto (Risotto in bianco): In some regions of Italy, rice, or risotto, is served in addition to lentils. Risotto in bianco is consumed on New Year's Eve for financial prosperity as rice represents coins, much like lentils, and rice expands in the cooking process which represents an expansion of wealth.
Tortellini or cappelletti in broth: Tortellini and cappelletti are similar types of pasta that have a filling, usually meat or cheese. In some regions of Italy, it is a new year's tradition to eat tortellini or cappelletti in a meaty broth.  The term "cappelletti" translates to "little hats" and is consumed to "cap off" the previous year.
Sicilian pizza (Sfincione): Sicilian style pizza, or sfincione, is common at New Year's Eve parties in Sicily because it is a convenient finger food. Sfincione is a rectangular pizza with a thick crust that is made with breadcrumbs, onions, and caciocavallo cheese.
Veneziana: Veneziana is a type of cake that is a common new year's tradition in Venice. This leavened cake is sweet and buttery and topped with slivers of almond and crunchy pearl sugar.  Veneziana is often served in star-shaped slices covered with powdered sugar.
Lentil Soup Recipe
Although New Year's Eve has already passed, it is not too late to make and enjoy the traditional lentil soup.  Remember, lentil soup is eaten on New Year's Eve for wealth and prosperity because the lentils resemble Roman coins.  You can make this delicious dish yourself with the recipe below!
Start with:
1½ onions diced
3 diced carrots
3 diced celery stalks
2 garlic cloves peeled and crushed
Salt, pepper
Sauté in olive oil until aromatic and softened, then add:
14 oz diced tomatoes
1 pound of lentils
2 boxes, or 10 cups of low sodium chicken broth
1 cup of beef broth or vegetables
Simmer for 1 hour until lentils are tender, then add:
4-6 thyme sprigs
1 cup of pasta if desired
Top with grated Romano cheese
New Year's Discount for Italy Travel and Tours
The new year celebrations may be over, but it is always a good time to visit Italy.  For the new year, ICAP is offering 10% off for those interested in traveling to Italy and Europe and reserving their package through our travel consultant.  To receive this discount, you must book your Italy travel package before April 1, 2020.
There are many amazing experiences and tours in Italy including tours of ancient Roman ruins and genealogy tours of towns and regions of your Italians ancestors.  Our travel consultant will help create your travel itinerary based on your interests to create your dream Italian experience!
You can start booking your custom Italian tours with ICAP on our website.
New Year's Traditions in Italy